Once a year, over 2000 writers gather at the RWA National Conference. This year, the conference was held in San Antonio, Texas along the beautiful Riverwalk.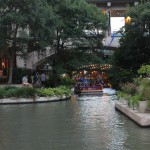 I arrived on Wednesday afternoon, checked-in at the Marriott Rivercenter hotel and hit the Riverwalk in search of lunch. The Readers For Life Literacy, a charity event to raise money and promote literacy, was in full swing that evening and opened to the public and conference attendees. The signing this year raised over $57,000.00.
I've been to four previous RWA conferences and can say without a doubt that this conference was very upbeat. In the past, self-published was considered an outlet for those who couldn't make it in traditional publishing. Not so in today's challenging world of publishing. Most of the workshops centered on self-publishing and e-publishing.
Sylvia Day, New York Times Bestselling Author, was the keynote speaker at the luncheon. She talked about the choices in publishing and how self-pub, and e-pub, changed the game and became a financially smart choice.
I had planned to attend several Publisher Spotlights to see what's being requested, but only made it to one. Entangled. Young Adult is selling very well for Entangled, and they want more YA with a mix of sci-fi, hackers, and kids who can crack codes. Historical, Fantasy, New Adult, Romantic Comedy, and Suspense are all doing well. I was more interested in their suspense line, Ignite, and was surprised that books with CSI elements are not doing well. No matter what, a well written story will sell.
I'm a member of the Kiss Of Death (the Mystery/Suspense chapter of RWA). Every year at conference they hold their annual meeting, day-long research tours, and the Death By Chocolate party. The KOD members had toured the Lackland Airforce Base and the Fort Sam Houston Army Base. Since the tour was scheduled the day before I arrived, I missed it…again. I did make it to the Death By Chocolate party where chocolate, wine, and liquor was in abundance. The only thing missing was a microphone.
After four days of writing workshops, the conference came to a close with the Rita/Golden Heart Awards Ceremony. The emcee, Simone Elkeles, was funny and entertaining. A big CONGRATS to all the winners.
Next year, the conference will take place in the "Big Apple". Hope to see you there.